WASHINGTON, DC, January 12, 2007 (ENS) – The minute hand of the Doomsday Clock will be moved closer to midnight on January 17, the first such change to the clock since February 2002. The Doomsday Clock has become a universally recognized indicator of the world's vulnerability to nuclear weapons and other threats.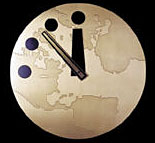 The move was announced today by the Board of Directors of the magazine "The Bulletin of the Atomic Scientists."
It reflects growing concerns about what the board calls a "Second Nuclear Age" marked by grave threats, including nuclear ambitions in Iran and North Korea, unsecured nuclear materials in Russia and elsewhere, and the continuing "launch-ready" status of 2,000 of the 25,000 nuclear weapons held by the U.S. and Russia.
The board also cited "escalating terrorism, and new pressure from climate change for expanded civilian nuclear power that could increase proliferation risks."
More… ➡