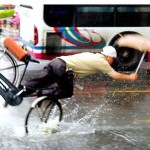 I've published twice (➡ and ➡) now on Big Pharma, Blood Pressure medicines and the ALLHAT Study that has shown (and been replicated) that cheap diuretic pills are equal or superior to the expensive blood pressure medicines Big Pharma is pushing.
Well, the other day, I went in to see my GP and I carried along a copy of the most recent study replicating the 2002 ALLHAT Study's conclusions.   I wanted to talk with him about this because he's prescribed one of these blood pressure medicines for me (Diovan).
He agreed that if the measure is just how much the pills lower one's blood pressure, then diuretic pills may, indeed, be equal or superior to Big Pharma's products.  But, he also said that there was more to the big picture than just looking at the blood pressure values.
The blood pressure medicine he prescribes for me, Diovan, is part of the class of blood pressure medicines called Angiotensin II Receptor Blockers (ARB). Â  Other drugs in this class are: candesartan (ATACAND), eprosartan (TEVETAN), irbesartan (AVAPRO), telmisartan (MYCARDIS), valsartan (DIOVAN), and losartan (COZAAR).
He said that long term studies had been done that had showed that folks that take ARBs tend to live longer and have less cardiovascular problems – quite independant from how much the drugs lower one's blood pressure numbers.
So, as in many things, there's more to the story than first meets the eye.