– I might have laughed this one off except that I recalled posting something similar a few years ago so I went digging and found the earlier article here: ➡
"Textbooks today still make silly statements that schizophrenia has always been around, it's about the same incidence all over the world, and it's existed since time immemorial," he says. "The epidemiology literature contradicts that completely." In fact, he says, schizophrenia did not rise in prevalence until the latter half of the 18th century, when for the first time people in Paris and London started keeping cats as pets. The so-called cat craze began among "poets and left-wing avant-garde Greenwich Village types," says Torrey, but the trend spread rapidly—and coinciding with that development, the incidence of schizophrenia soared.
dennis
– – – – – – – – – – – – – –
Jaroslav Flegr is no kook. And yet, for years, he suspected his mind had been taken over by parasites that had invaded his brain. So the prolific biologist took his science-fiction hunch into the lab. What he's now discovering will startle you. Could tiny organisms carried by house cats be creeping into our brains, causing everything from car wrecks to schizophrenia? A biologist's science- fiction hunch is gaining credence and shaping the emerging science of mind- controlling parasites.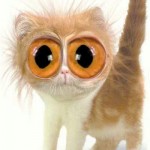 NO ONE WOULD accuse Jaroslav Flegr of being a conformist. A self-described "sloppy dresser," the 63-year-old Czech scientist has the contemplative air of someone habitually lost in thought, and his still-youthful, square-jawed face is framed by frizzy red hair that encircles his head like a ring of fire.
Certainly Flegr's thinking is jarringly unconventional. Starting in the early 1990s, he began to suspect that a single-celled parasite in the protozoan family was subtly manipulating his personality, causing him to behave in strange, often self-destructive ways. And if it was messing with his mind, he reasoned, it was probably doing the same to others.
The parasite, which is excreted by cats in their feces, is called Toxoplasma gondii (T. gondii or Toxofor short) and is the microbe that causes toxoplasmosis—the reason pregnant women are told to avoid cats' litter boxes. Since the 1920s, doctors have recognized that a woman who becomes infected during pregnancy can transmit the disease to the fetus, in some cases resulting in severe brain damage or death. T. gondii is also a major threat to people with weakened immunity: in the early days of the AIDS epidemic, before good antiretroviral drugs were developed, it was to blame for the dementia that afflicted many patients at the disease's end stage. Healthy children and adults, however, usually experience nothing worse than brief flu-like symptoms before quickly fighting off the protozoan, which thereafter lies dormant inside brain cells—or at least that's the standard medical wisdom.
But if Flegr is right, the "latent" parasite may be quietly tweaking the connections between our neurons, changing our response to frightening situations, our trust in others, how outgoing we are, and even our preference for certain scents. And that's not all. He also believes that the organism contributes to car crashes, suicides, and mental disorders such as schizophrenia. When you add up all the different ways it can harm us, says Flegr, "Toxoplasma might even kill as many people as malaria, or at least a million people a year."
An evolutionary biologist at Charles University in Prague, Flegr has pursued this theory for decades in relative obscurity. Because he struggles with English and is not much of a conversationalist even in his native tongue, he rarely travels to scientific conferences. That "may be one of the reasons my theory is not better known," he says. And, he believes, his views may invite deep-seated opposition. "There is strong psychological resistance to the possibility that human behavior can be influenced by some stupid parasite," he says. "Nobody likes to feel like a puppet. Reviewers [of my scientific papers] may have been offended." Another more obvious reason for resistance, of course, is that Flegr's notions sound an awful lot like fringe science, right up there with UFO sightings and claims of dolphins telepathically communicating with humans.
– More… ➡