– This is what John Roach of NBC News has to say on October 9th, 2013
– But this has all been coming, writ large, for a long time.  
-It's been coming since:
Lyndon Johnson discussed the CO2 we were putting into the atmosphere in 1965.
Since the Club of Rome discussions and their paper on "The Limits to Growth" in 1972.
Since the World Scientists issued their warning to Humanity in 1992.
– But it is only just now beginning to reach the evening news as plausible news.  
– We have just a few greedy, self-centered people and corporations to thank for the fact that their misinformation has been instrumental in delaying humanities waking up on these threats until it is virtually too late.  
Most recently, Naomi Oreskes showed us this in her book, Merchants of Doubt: How a Handful of Scientists Obscured the Truth on Issues from Tobacco Smoke to Global Warming. 
– Some of us remember how Mussolini ended up.   I wonder, when the damages are finally appreciated, if these folks may fare the same.   I won't cry any crocodile tears for them; that's for sure.  
-By their actions many, many millions will die, cities and nations will fall, species innumerable will go extinct and most of our descendants will have less than optimal lives to look forward to; if they manage to live through the changes that are coming.
– dennis
= = = = = = = = = = = = = = = = = = = =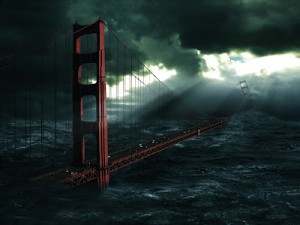 The world is hurtling toward a stark future where the web of life unravels, human cultures are uprooted, and millions of species go extinct, according to a new study. This doomsday scenario isn't far off, either: It may start within a decade in parts of Indonesia, and begin playing out over most of the world — including cities across the United States — by mid-century.
What's more, even a serious effort to stabilize spiraling greenhouse gas emissions will only stave off these changes until around 2069, notes the study from the University of Hawaii, Manoa, published online Wednesday in the journal Nature. The authors warn that the time is now to prepare for a world where even the coldest of years will be warmer than the hottest years of the past century and a half.
"We are used to the climate that we live in. With this climate change, what is going to happen is we're going to be moving outside this comfort zone," biologist Camilo Mora, the study's lead author, told NBC News. "It is going to be uncomfortable for us as humans and it will be very uncomfortable for species as well."
– To Read More of this article:  ➡
– Still with the doubts, Sweetpea?   Then please read this: ➡