Saturday morning and the weather's cool. Looks like it could be a busy day here in the nursery and we could use a strong day. We've had a lot of big bills come due these last two weeks and it's put the pressure on our cash-flow. The major heat-wave did not help.
I wrote a piece last night about the Snow Job story in the National Review that I've been wanting to write for some time. That's always the problem with writing stuff – time is required and time is something I don't have a lot of.
Three weeks until we fly to New Zealand. The excitment's building. I'm hoping that I can get into Internet cafes or hotels with Internet access so I can post from there about our adventures on the South Island.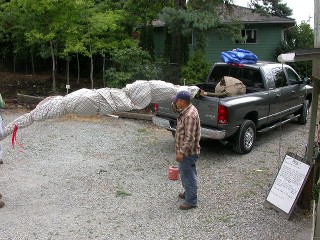 Right off this morning, customers have been coming in. Here's a Northern Red Oak going out. Two to three hundred pounds of root-ball and 15 feet or better tall for $100 (we're having a sale). Come on in, friends and neighbors – we're ready to deal!