– I'm not at all sure what to think of this piece.   I do know that 'time' is one of the most fascinating subjects to think about.   So fundamental to our very existence and so unfathomable.
– – – – – – – – – – – – – – – –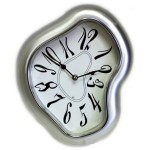 What happens when we die? Do we rot into the ground, or do we go to heaven (or hell, if we've been bad)? Experiments suggest the answer is simpler than anyone thought. Without the glue of consciousness, time essentially reboots.
The mystery of life and death can't be examined by visiting the Galapagos or looking through a microscope. It lies deeper. It involves our very selves. We awake in the present. There are stairs below us that we appear to have climbed; there are stairs above us that go upward into the unknown future. But the mind stands at the door by which we entered and gives us the memories by which we go about our day. Everything is ordered and predictable. We're like cuckoo birds who appear through a door each morning. We fancy there's a clockwork set in motion at the beginning of time.
But if you remove everything from space, what's left? Nothing. The same applies for time — you can't put it in a jar. You can't see through the bone surrounding your brain (everything you experience is information in your mind). Biocentrism tells us space and time aren't objects — they're the mind's tools for putting everything together.
More… ➡